The Hunger Games: The First Book of The Hunger Games
by Suzanne Collins
Released October 2008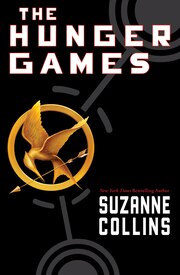 In the ruins of a place once known as North America lies the nation of Panem, a shining Capitol surrounded by twelve outlying districts. The Capitol is harsh and cruel and keeps the other districts in line by forcing them to participate in the annual Hunger Games, a fight-to-the-death on live TV.
To be honest, I was very skeptical about The Hunger Games when I first heard of the novel. It had been a while since I found myself glued to a novel, unable to lay it down until I was finished, and I didn't expect The Hunger Games to change that. I couldn't be more wrong. Not only did The Hunger Games deliver a completely enthralling and thrilling narrative, but it did it so uniquely from recent counterparts in the YA genre. There was just enough danger, just enough action, and just enough romance; the perfect mixture! (Okay, so I would't exactly mind a few more Katniss and Peeta scenes, but I'll take what I can get, hehe!)


I have to admit that I was delightfully surprised by just how engrossed in this novel I became. I found myself thinking about it throughout the day, wondering what would happen next, and it was so hard to put it down at night (or early morning)! I actually didn't want to stop reading it and I flew through the pages. Non-stop.


After the introductory chapters, which describe Panem and its remaining 12 districts, the Hunger Games themselves, and the tribute selection process, the story becomes fast-past action, chapter after chapter. I cared about the characters and what would happen to them in the games. I wondered about Gale who was back in District 12 and how he was digesting Katniss's new "love". I sympathized with Katniss, and the obstacles she faced and the decisions she made alone. I thought about the development of morals, characteristics, and human rights. Any novel that can make you feel and think about so much is definitely doing something right.


There is nothing I can do but gush about The Hunger Games and how excited I am to read Catching Fire, which is already on my night stand, ready to be opened.


Instant favourite.